Thanks to Dave Howell and the Morning Call for this great interview!
Great review of Jewels & Tinware in Elucidator Magazine. Thanks Carter Lansing!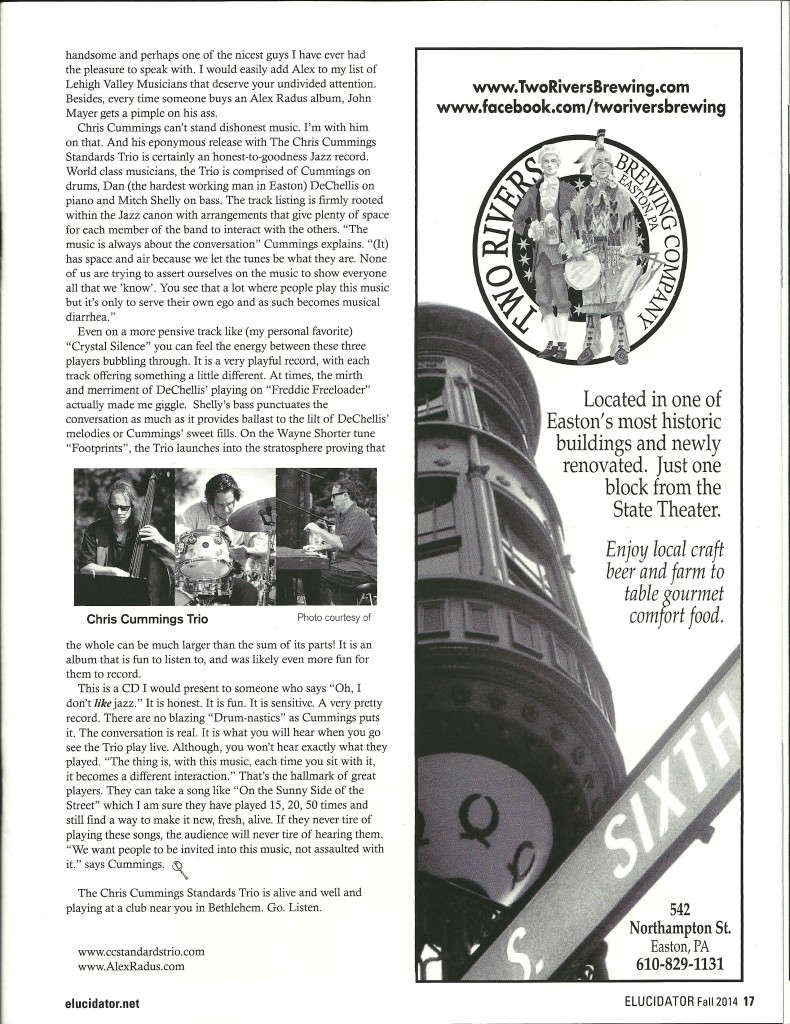 Great review of Jewels & Tinware in Steel Notes Magazine. Thanks Michael McKenna!
Hailing from the Jersey side, transplanted to the Pennsylvania side, Alex Radus tirelessly pursues perfection when it comes to his songwriting. Two years in the making, "Jewels & Tinware" is now a reality for this creative artist. His efforts to date include multiple CD's, numerous awards and critical acclaim. Radus has shared the stage with artists like Ritchie Havens, Regina Spector and Nellie McKay.
Consisting of 12 tracks, 11 original and a Rodgers and Hart classic, the music tends to cross many different genres with such ease that one would have a hard time noticing the changes. "Genius" has lyrics that are full of ambitions and characterizations that sometimes crop up in a wandering mind. "We Can't Play Like Django" fills our ears with toe-tapping country-like percussion's in an old-timey western style. Dave Cahill's string work is masterful! "I Haven't Missed You" goes way back to an early 50's jazz style that I haven't heard in years.
The Rogers & Hart classic "My Funny Valentine" is reworked with B.B. King sounding strings in the intro that morphs smoothly into a funky mid-tempo groove that is accented nicely with Dan Manchester's upright bass. "Someday"
would have the cats in the Delta jazz clubs groovin'. "Baptism Sketches" reminds me of a 70's band called Poco in its style and presentation. "Never Get Lonely" has some cool acoustic riffs that give this track a peppy sound.
"I'm A Pistol" is a country-flavored Americana song in the mold of the classic 1958 Frankie Laine classic "Rawhide". "Soldier of the Devil" sees Alex's vox go to a deep baritone reminiscent of the late master Johnny Cash. "Law of Lonesome Hearts" is a classic tearjerker. "Shoveling Stone" reminds me of an old prison song that the inmates would sing while working on the chain gangs or in the hut. "Disorganized Religion" sees Charlie Heim's toe-tapping percussion gives this track a fun sound. The funky bottom enhances the straight-forward vocals that Alex nails with ease.
The tracks on this effort take one to many different places, touch on realities that permeate our lives and leave one yearning for more. The creativity, originality and talents meld together seamlessly in a note of perfection. I had to listen to this CD exactly 3 times to get the total picture of what Alex and the boys were presenting. Well Done!! I give this 2 THUMBS UP!!!

LISTEN TO 'LOVE ME LIKE YOU HATE ME' ON:
WXPN 88.5 Philadelphia, PA

WSTW 93.7 Wilmington, DE

WDIY 88.1 Bethlehem, PA

WDVR 89.7 Seargentsville, NJ

WSCA 106.1 Portsmouth, NH

WERS 88.1 Boston, MA

WMUH 91.7 Allentown, PA
Check out my hungover mug in the City Paper! (It was the morning after my CD Release…what? don't judge.)
"Tin Pan Alley blues singer…"
"[Alex Radus] has charmed the pants of many a lass 'n' lad with that F-hole twanging Geetar and that sullen sultry croon."
Philly's lo-fi noir jazz-punk-blues-C&W…think an un-annoying Chris Isaac. Plus, he's got the best new CD title: 'Love Me Like You Hate Me.'
[Love Me Like You Hate Me] is impressive…eerie, intense and wonderful."
"Love this guy…['Love Me Like You Hate Me' is] a MUST HAVE CD from one of Philly's best musicians."
"Connicky crooner…"
"Alex is a master guitarist whose songwriting continues to flourish."
*Alex sells over $100 in digital downloads in 5 days at www.wemusicstore.com! Here's part of the story…click on the link for more…

"This is the future of music," says Kortina, "because the Internet makes everything so much smaller and faster and easier. You can distribute globally, so why would you go to the trouble of printing, packaging and shipping CDs from somewhere else when you can do the same thing through the Internet at a much lower cost? Plus you're going to reach many more people and get a better percentage of your sales."

One of the site's first users, a Philadelphia artist named Alex Radus, who describes his genre of music as "acoustic indie rock," made $100 selling his songs after only five days on the site.

"I think that was the coolest gauge of how well we're doing," says Kortina. "It just shows how powerful it is."
"Alex brings an uncanny measure of refinement to the songwriting craft. His wit and wisdom come to light in lyrics that are poignant and sophisticated. His guitar work gravitates between inspired and brilliant. In short – this kid can cook!"
Get Into The Act: Alex Radus

Alex Radus is one skillful fretman who seems poised to break out. The 25-year-old folk, jazz blues artist works his acoustic guitar in a picking percussive style a la Dave Matthews reborn as an old Southern field hand.

His shows go down smooth with crowd-pleasing economical songs. "Disorganized Religion" showcases his vocal agility with run-on lines backed by punchy brassy chords. "Temporarily" is romantic and introspective while "Burn Down the Liquor Store" is a fun blues romp with a Lyle Lovett delivery.

Radus grew up in Flemington, N.J., where as a teen he cut his teeth on Guns N' Roses. "I had a good guitar and a bad amp," he recalls. "It was unsatisfying, so I went acoustic."

Radus now lives in Bethlehem, but his reach is regional. For five years, he was one half of the folk fusion duo Duende with Maria Woodford. He's played the World Café Live in Philadelphia, a new venue affiliated with WXPN, as well as gigs in New York City, Boston, Virginia and North Carolina. But Duende is disbanding — their final show is July 1 at Godfrey Daniels in Bethlehem — and Radus is embracing solo pursuits.

A new CD is in the works, and Radus is in search of a backing band to flesh out tunes and play bigger city gigs. "I need to find some real sensitive players," he claims, "[because] I play a bass-oriented guitar."

Tony Sienzant

*Alex's Note* "Burn Down the Liquor Store" is a great Chris Thomas King tune I picked up from the live recording "Down from the Mountain."
photo and recording of "Disorganized Religion"

Thanks to Tony Sienzant and entertainment editor Jodi Duckett
"ALEX RADUS is part of the below DUENDE and put this album out a few years ago. Featuring lots of Antifolk sensibilities, there is also a distinctively Jam Band attitude (with some really cool Jazz and Rock grooves thrown in) about these tracks, but the songs are a lot shorter than traditional Jam Band material. This material hardly ever sees the light of day in a Live setting so you'd best get this CD because it's got Something for Everyone."
Praise for Duende (Alex Radus and Maria Woodford)
Best Songwriter – 2004
-Upstage Magazine
Sincere, sultry as only folk music can be, Duende is the poignant alternative to the generics of the anti-folk scene."
"genre-defying"
Duende Pulse Weekly Cover
"…doubletake-inducing fretboard acrobatics…Duende's reserve of ideas on their instruments seems inexhaustible."
"[Duende] effortlessly blend elements of bluegrass, folk, pop, and the blues."
"the deliberate, lucid melodies put you at ease."
"duende is indeed as charming as it's namesake… a fluid, melodic hybrid of roots music."
"Keep going, we need artists like you to carry the torch."
"Duende: Maria Woodford and Alex Radus is one of the best CD's I have heard out of the thousands I have received since I started CD Baby."
"an acoustic roots act that plays a delicious mix of folk, old-time Appalachian, Celtic music,

Hot Club-inspired swing and best

of all, blues."
"…a fresh blend of touching folk lyrics, beautiful voices, and solid musicianship. The combination makes for delightful folk music and great listening pleasure."

Jonathan Overby, Executive Producer – Wisconsin Public Radio(Apr 18, 2001)

"These two are well on their way to becoming seasoned road warriors. Their music is sweet, acoustic, and sometimes on the edge…always from the heart. Watch out! They're around for the long haul."
Mary Flowers, 3rd Place National Fingerpicking Champion – 2000(Jun 13, 2002)

"Highlights of the set included Alex Radus' "Old Fashioned House." Paul-Simon-meets-bluegrass…A+ material"
Mark Grabowski – The Hook, Charlottesville, VA(Oct 28, 2004)

Duende in Pulse Weekly – Page 20
Foolz

(The Funhouse, Apr. 1) Duende guitarist Alex Radus will celebrate his birthday with a set opening for the jazz-fusion group Foolz. With guitarist Dave Cahill at the helm, the experimental Foolz have played many a Friday night at Bethlehem's Funhouse. With it being April Fools' Day and all, it's anyone's guess what will happen at this gig; we just hope it involves birthday shots – but of what, we're not at liberty to say.

These days, far too many artists fail to exploit the full potential of CDs when releasing records, with 40 minute albums commonly becoming the norm. This certainly isn't the case for Duende, with their self-titled album consisting of an impressive 14 tracks spanning 71 minutes…

4 1/2 stars out of 5!